The history of the Zambartas family in wine goes back to the 1970's, when Akis Zambartas, a then young man, went to France to study Chemistry in Lyon and then Enology in Montpellier. He returned to Cyprus as the first university educated enologist of the island and was set for a successful career at one of the major wineries of the island.
His academic mind did not rest and in the 1980's he conducted a research that would change the course of the Cypriot wine industry 20 years later. In a four year long pioneering research he identified and recorded 13 lost Cypriot indigenous grape varieties.
Fast forward to 2006, and Akis decides to follow his dream of establishing his own boutique winery with the focus on making quality wine from indigenous varieties. The pivotal point was the decision of his son, Marcos Zambartas, to quit the corporate world and fly to Australia to become a winemaker.
Two years later Marcos returned from Australia with hands-on winemaking experience, a Dutch girlfriend and a Master degree in Winemaking from the University of Adelaide. He immediately joined his father on the cellar floor. The first years working together in the new winery were a constant quest for achieving quality and keeping true to our Cypriot identity.
Since then, Zambartas Wineries has grown to a production of 120.000 bottles a year and established itself as a pioneering, quality producer. We manage over 13 hectares of vineyards, both young and old, which are tended organically by our dedicated team. We have introduced the innovative 'Single Vineyard' Range and constantly look for ways to improve.
Marcos currently runs the winery together with his, by now, wife Marleen, and their team with a lot of passion and enthusiasm. New projects, goals and challenges lay ahead, which we take up with a lot of happiness, knowing that our wines are an integral part of people having a great time together.
Marcos Zambartas 
Growing up as the son of a winemaker, Marcos was introduced to the wine world from a young age. He first completed his Bachelor and Masters degree in Chemistry at Imperial University London, and worked for a few years in the corporate world before realizing that he wanted to spend his future making wines. He went to the Provence and New Zealand to gain hands-on experience, and continued his journey to Adelaide in order to learn the scientific side of the discipline at Adelaide University, where he gained his Masters Degree in Enology. This life changing adventure was the starting point of an exciting life as a winemaker. Through his international exposure, Marcos acquired the knowledge of the latest practices in modern winemaking and his pioneering and inventive mind is constantly in search for improvement, from the smallest detail in the winery to experimenting with indigenous grape varieties. He simply loves every moment of the creation.
Marleen Zambartas
Growing up in the Netherlands, Marleen could have never imagined finding herself at a winery in Cyprus. It all started when she was a university student of history and applied for an exchange program in Australia. She met Marcos there and the rest is history. She embraced a rural lifestyle in Cyprus and immersed herself into the wine world. Being an excellent communicator and admittedly having the most charming smile of the lot, Marleen has become a strong pillar of the Zambartas brand. She is responsible for our online activities, export markets ,and taking care of the youngest generation of the Zambartas family. Her secret cooking talent is unveiled when we celebrate the end of the harvest!
Sebastian & Emilia Zambartas
The kids, the youngest generation of Zambartas! Sebastian was born in the middle of harvest in 2015. A boy with a strong character, just like his father. He started to really enjoy the winery life and is particularly intrigued by the tractors and all big machines. Emilia joined the gang in autumn 2017 and walks around the winery with flair and determination. Oh and she loves cuddles from the winery team!
Akis Zambartas – In Memorian
Akis Zambartas, our father and father in law, was the founder of Zambartas Wineries in 2006 and a leading authority on Cyprus wines for many years. After a long career in the wine business, he decided to follow his dream and build his own boutique winery. Within a few years, with enormous energy and passion, he built the winery and established the brand. We are very grateful for the foundations of the family winery that Akis has laid for us and we will always remember his sheer love and passion for wine and especially the Cyprus grape varieties. Akis made a vital contribution to Cypriot wine history with his project to re-discover Cyprus' indigenous grape varieties in years long pioneering research in the 1980's. Please read more about this project here.
We are very fortunate to have found a solid and hardworking fulltime team, as well as valuable consultants over the years. We all share a determination to do things the Zambartas way, think differently, be proactive and treat people & nature with respect. What's even better is that we all like each other's company, enjoy sharing a good joke and generally have a lot of fun working together.
The pool of dedicated people from Agios Amvrosios that take up any seasonal work, such as harvesting, sorting and bottling with a positive spirit, deserve a special mention. After all, it takes a village…to make good wine!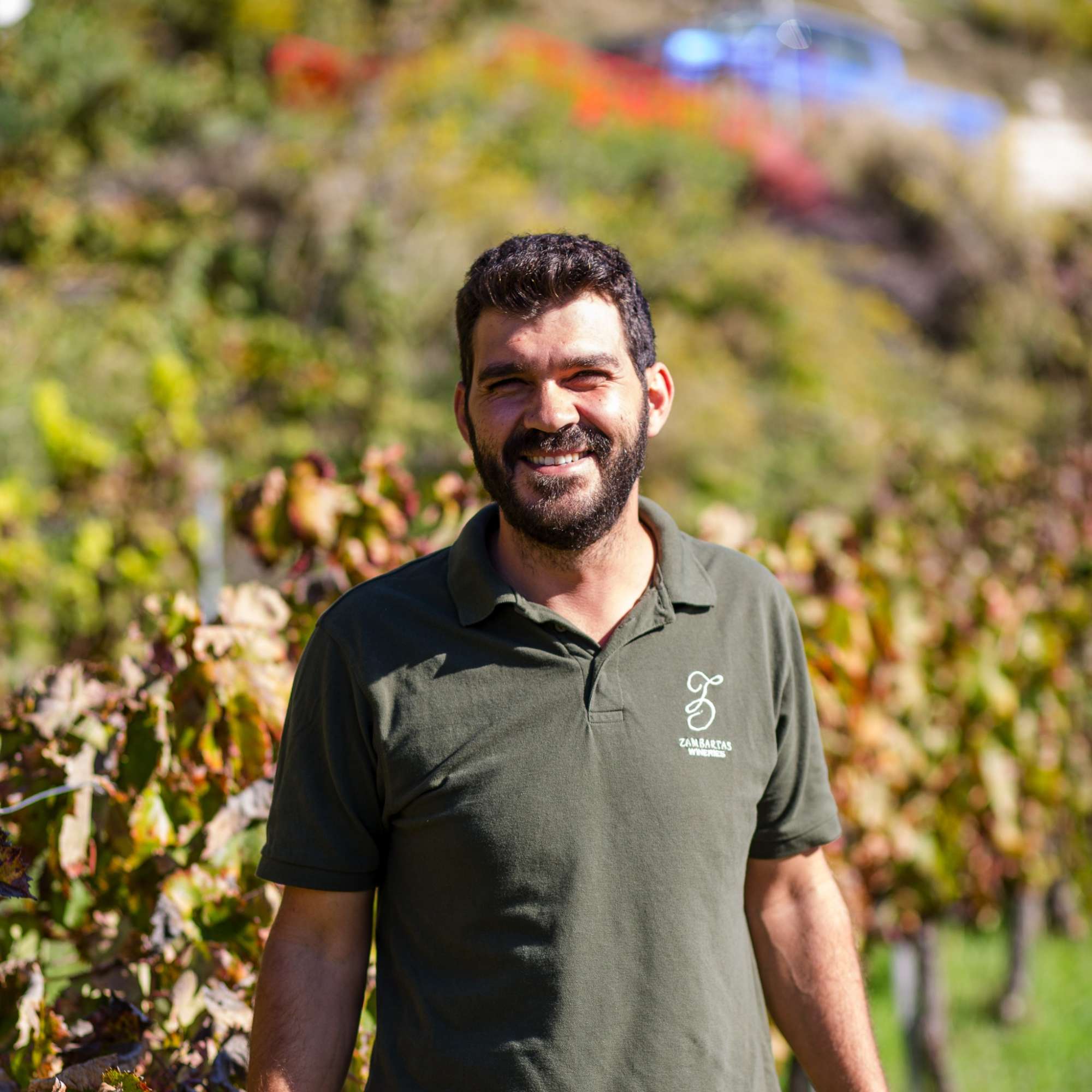 Christodoulos Karaolis
VITICULTURALIST
Christodoulos was born and raised in a village outside of Paphos and grew up among his family's vineyards from an early age. He spent his weekends tending the vineyards together with his family. It was only natural for Christodoulos to pursue studying plants and vines in a scientific way. He went to the university of Thessaloniki and gained his master degree in horticulture, followed by a specialization in Viticulture. After he completed his studies he came back to Cyprus and joined Zambartas early 2016. Christodoulos manages our vineyards, from planning the work to pruning, from planting to plowing. He loves being surrounded by nature and feels at home in the vineyards.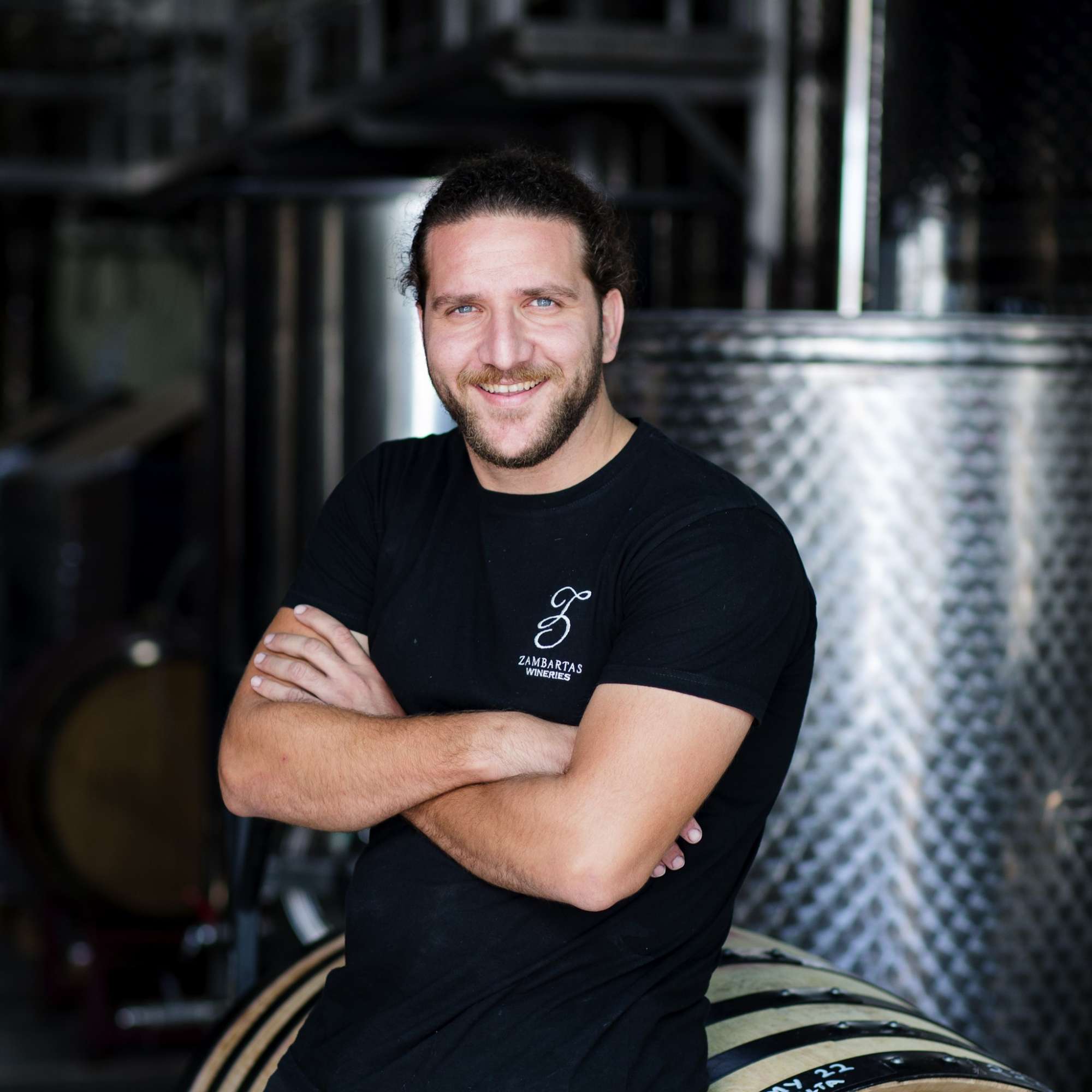 Charis Evangelou
ENOLOGIST
Charis was born and raised in the village of Anafotia, close to Larnaca, being the youngest in a family of 4 kids. After high school he went to study Food Science and Technology at TEPAK in Limassol, where he fell in love with winemaking. Upon completion he made the big international leap and enrolled in the Vinifera Master, taught in Montpellier, France, and Alba& Asti in Italy. Ambitious to learn more and get international experience, he then went on to work vintages in Germany, Santorini and Italy. We are glad to have Charis in our team as a dedicated enologist, eager to learn, take on new winemaking projects and even do the occasional hosting of guests!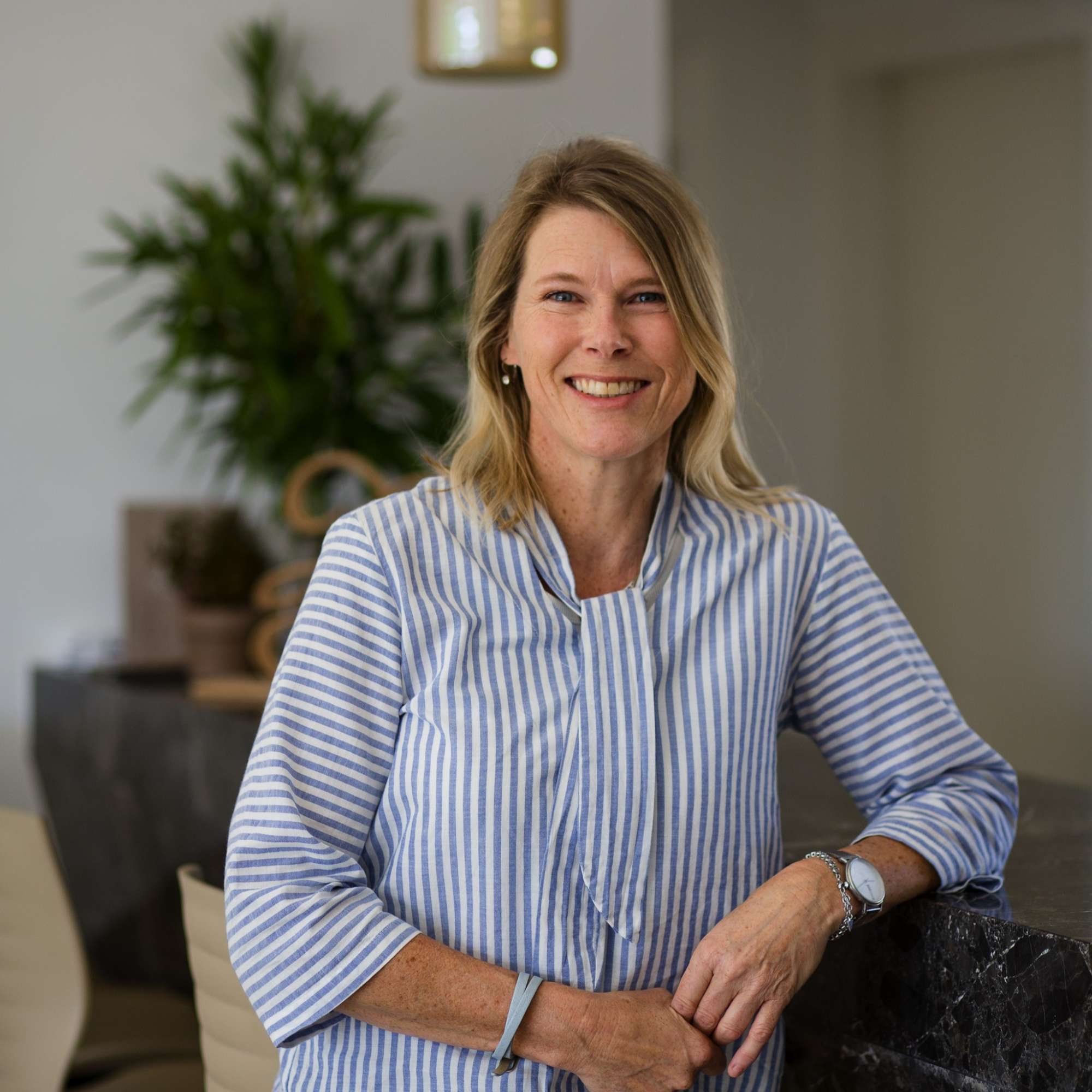 Fiona Bakker
HOSPITALITY MANAGER
With a wealth of experience in the tourism and hospitality industry, Fiona joined our team in 2021. Ready for a change, and with a big passion for wine, Fiona took on our hospitality department. She is responsible for the daily running of the tasting room, organisation of events and dinners and the overall visitor experience. Originally from the Netherlands, Fiona has lived in Cyprus for more than 25 years. She speaks English, Greek, Dutch, French and German and is a real people's person. In her free time, she enjoys spending time with her family, cooking (over a glass of wine), sports & painting.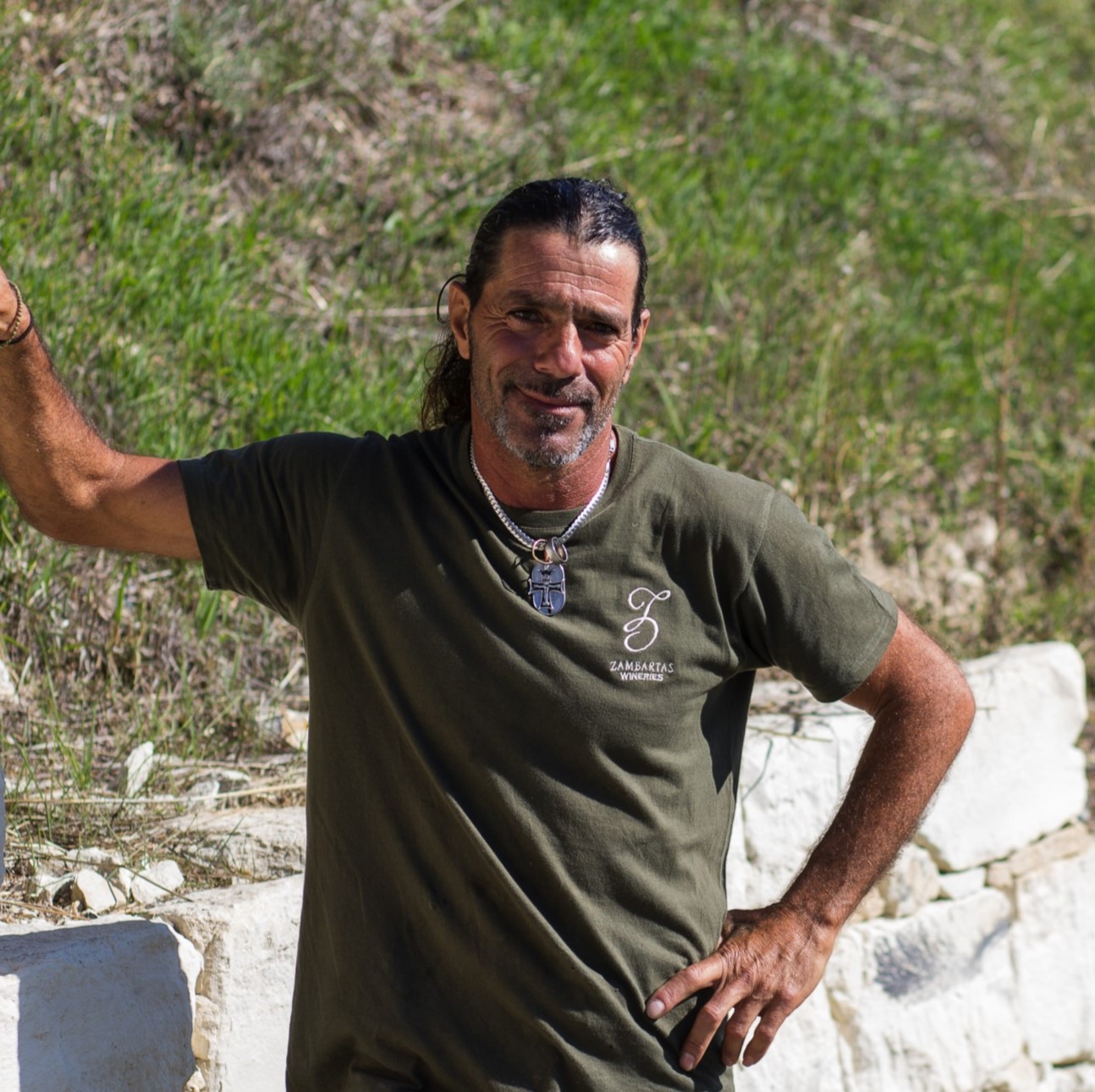 Stavros Kyriakou
VINEYARD TEAM
We got introduced to Stavros as our neighbour in the village and after some years he joined our team. Stavros is a real handyman; builds stone walls, works in the vineyard and has energy for 10! Being our neighbour, he always keeps an eye out and can be called upon in an emergency; a real bless!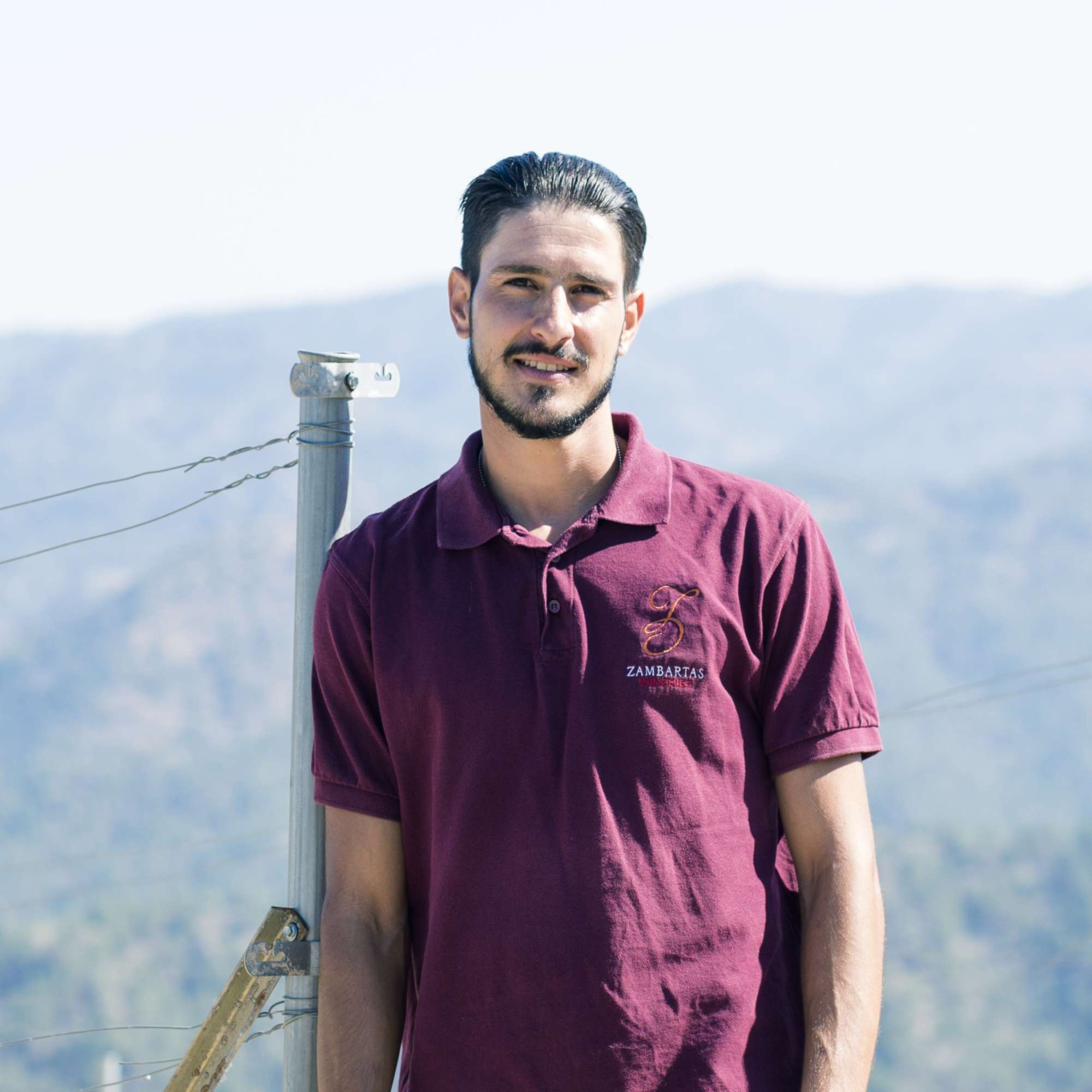 Kyriakos Kyriakou
VINEYARD TEAM
Kyriakos, the son of Stavros, is our youngest team member and is the athlete of Zambartas Wineries. He spends any time outside of work at the football field, drinks no alcohol and is always fit. He is also the proud father of his little boy Marios and a real family man.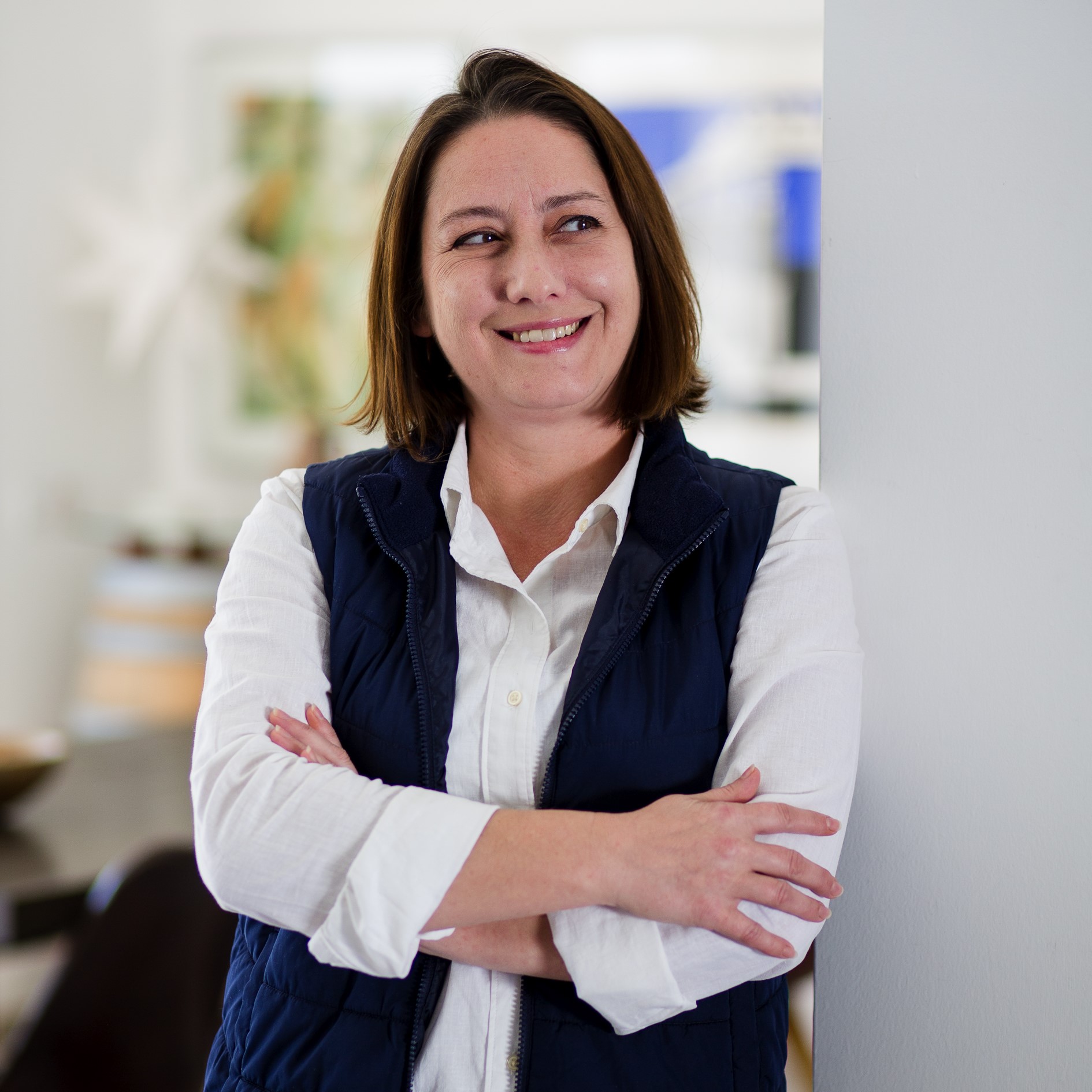 Adriana Olivia
HOSTESS
Adriana is a dynamic team member to Zambartas Wineries. Hard working, flexible and dedicated, she picks up any chore with energy! She is a core member of our hospitality team, having hosted many guests from all over the world with professionalism and a smile. She completed an introduction course in wine, offered by the Cyprus Sommelier Association and she has proved a great learner. Speaking 3 languages fluently, she is welcome to host you! Oh and last but not least, she is the Zambartas kids' favourite babysitter.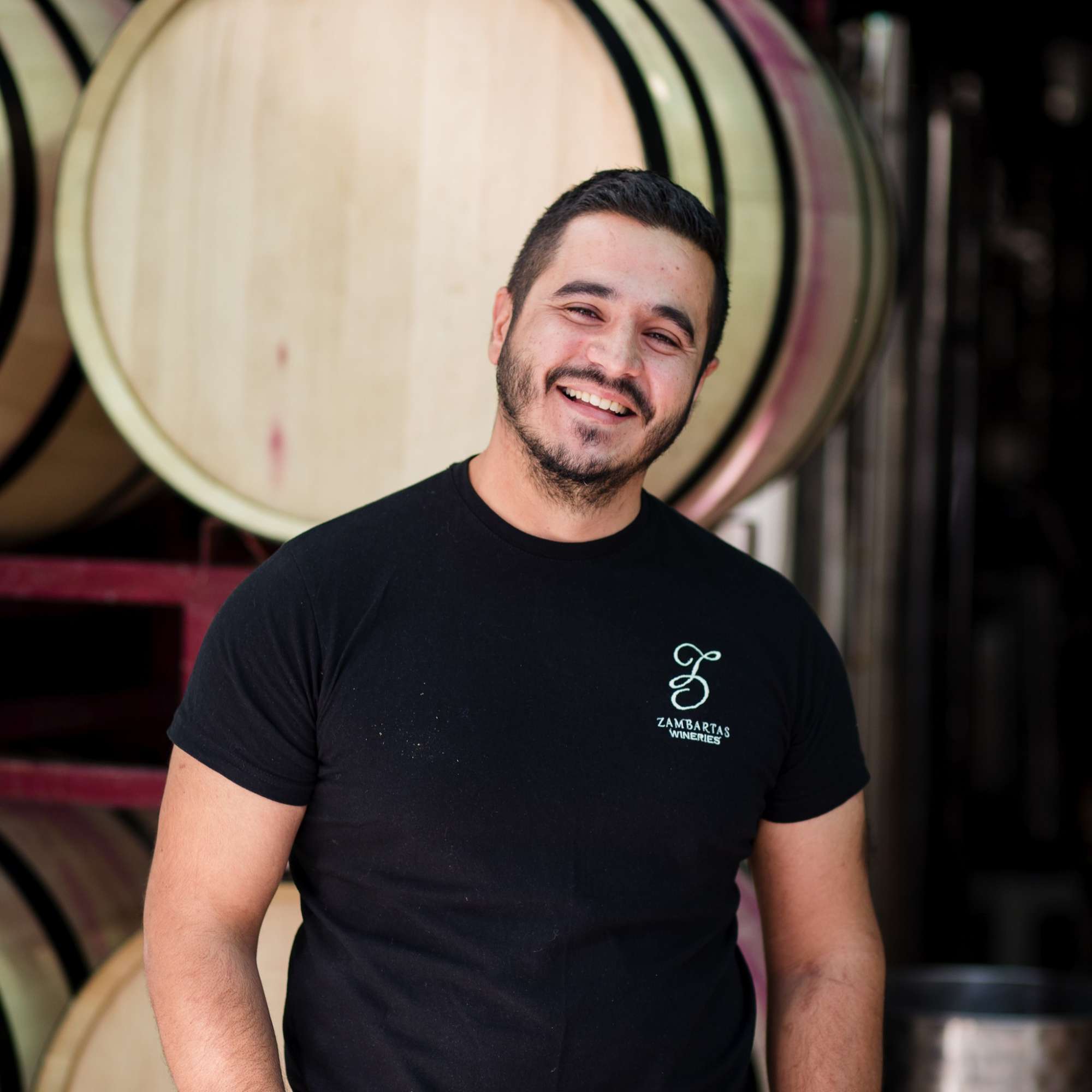 Erotokritos Erotokritou
CELLAR HAND
Erotokritos was born and raised in Nicosia, just like Marcos. He moved to the wine village Vasa for love and lives there now with his wife and three children. He joined our team in 2021, with long term experience in winery cellar operations. Erotokritos is responsible for the cellar operations, where he assists Charis in the hands on cellar work, maintenance and bottling. With a calm character and dedication he is a great colleague to have!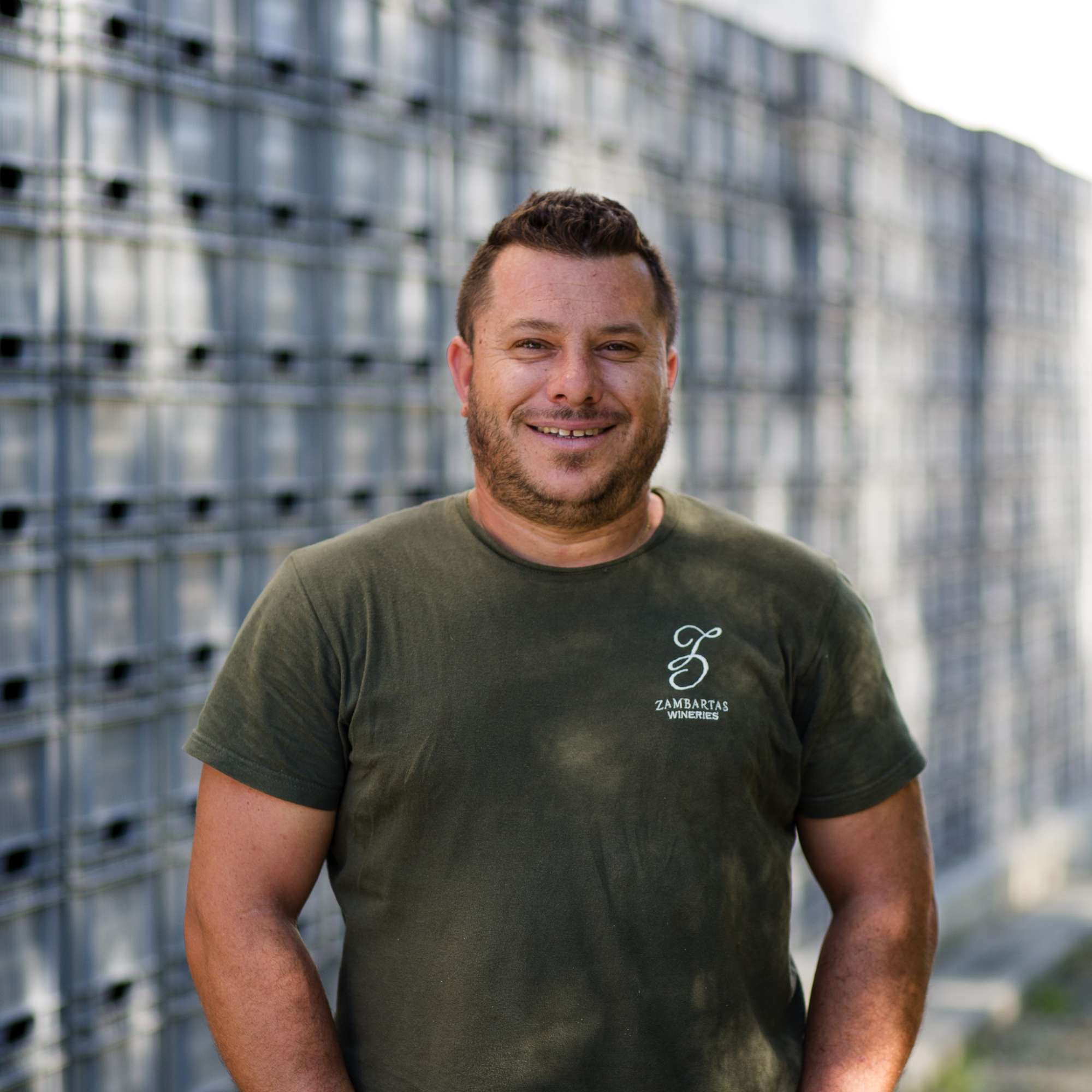 Leonidas Leonidou
VINEYARD TEAM
Born and raised in Agios Amvrosios, Leonidas is also a real local. He enjoys his work in the outdoors and is always up for a good laugh. He is the proud father of a daughter and loves to cook. During our yearly Open Doors events, he masters the art of grilling and he dreams of running a taverna one day. We hope he will!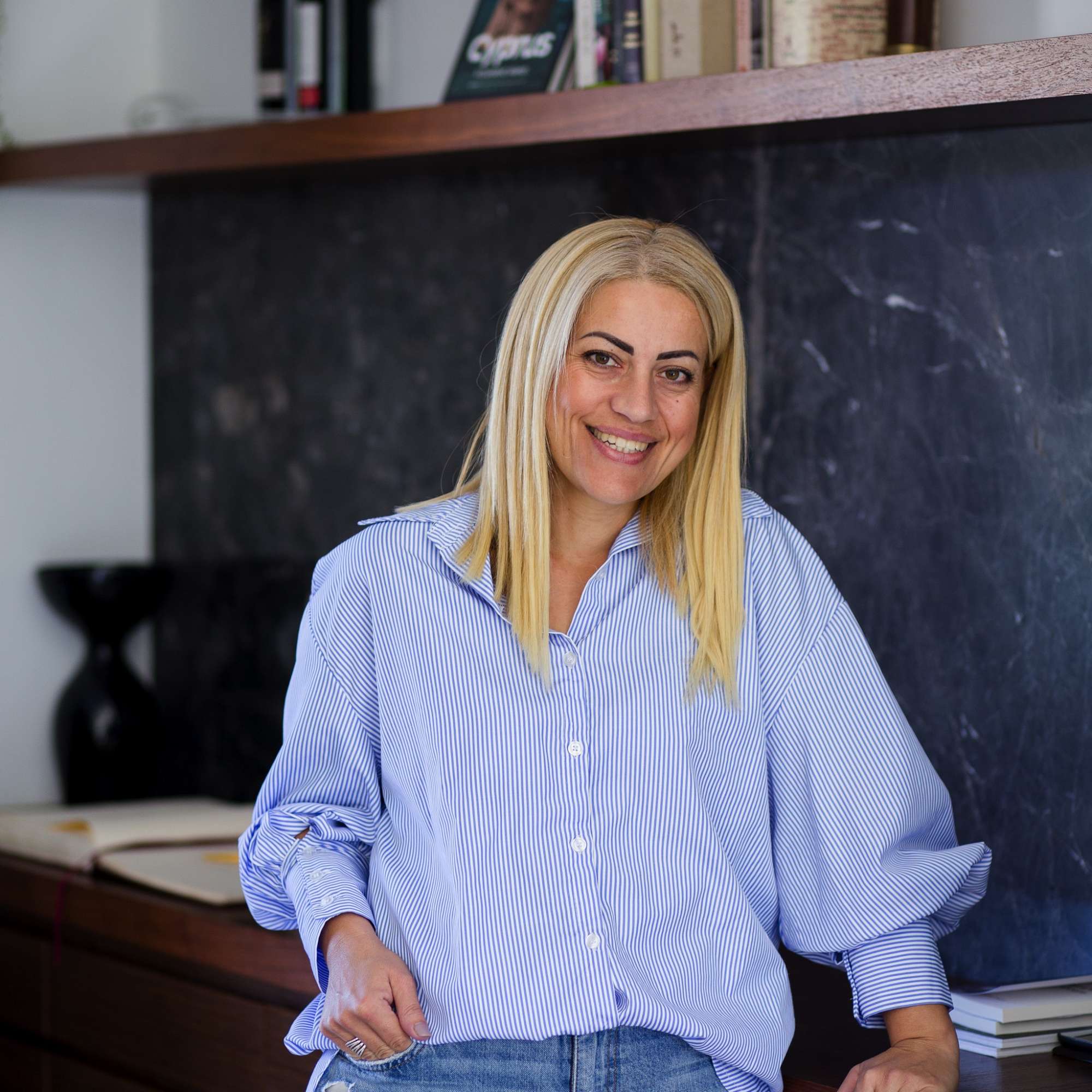 Elia Shiapatti
ACCOUNTANT
Elia was born and raised in Limassol and now lives in the neighborhood of Kolossi Castle with her husband and 2 sons. A proud mom, positive force and real office lady. With a wealth of experience in accounting departments in the private sector, she decided it was time to work less hours and spend more time with her family. Elia now takes care of the accounting at Zambartas Wineries on a daily basis and keeps our team organised. With the occasional joke and thorough application of her work, we are very glad to have her in our team. In the afternoons she now has free time to spend with her children.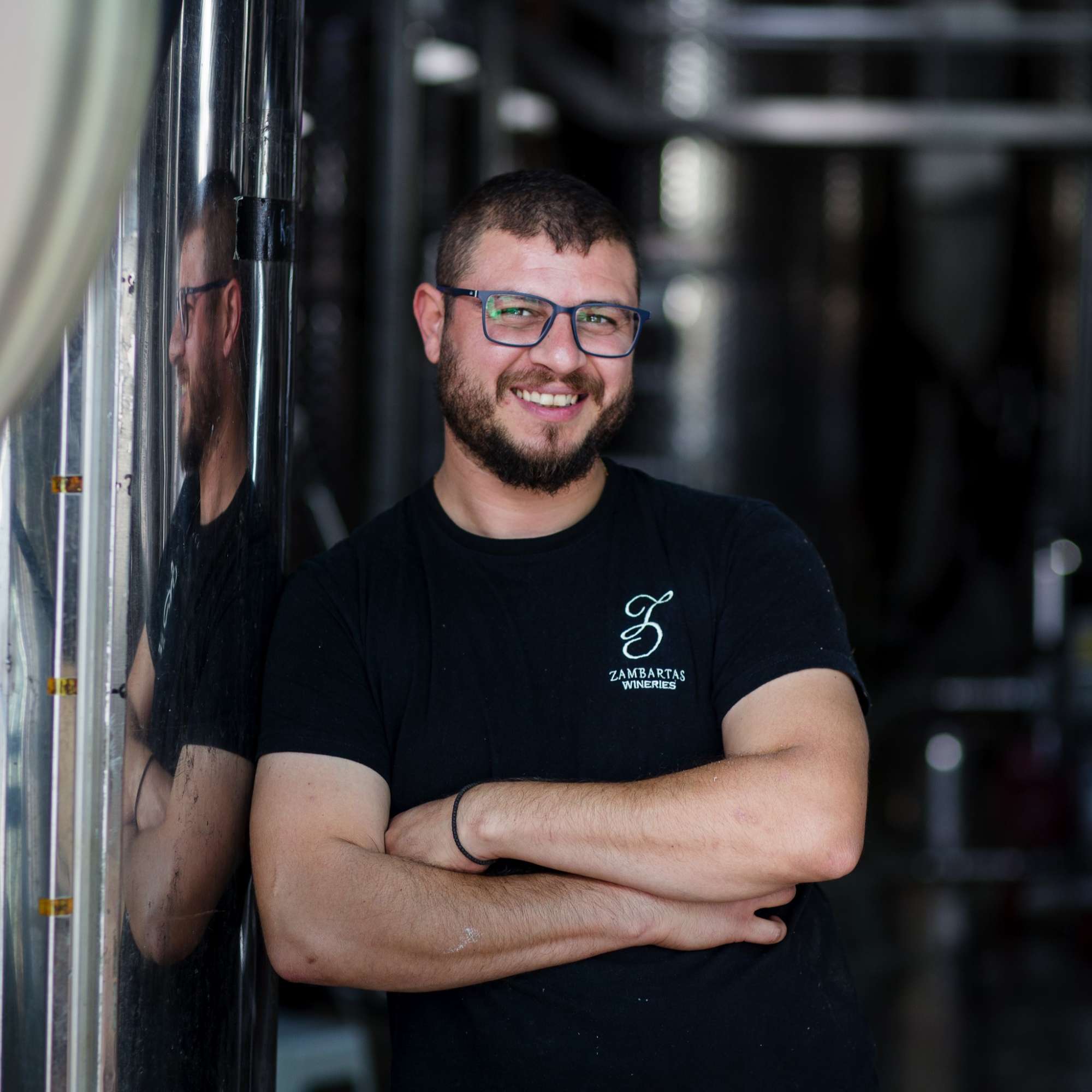 Andreas Antoniou
CELLAR HAND
Andreas grew up in Limassol, but moved back to the village of his father' family roots, Vasa. He is a proud father of a boy and enjoys the village life. With years of experience working in the kitchen of restaurants, time came for a change. Andreas joined us in 2022 as a cellarhand and is now working with Charis and Erotokritos in our cellar team. He still holds a passion for cooking and assists the hospitality team in events too. Being an introvert person, you need to get to know Andreas to discover his good sense of humor!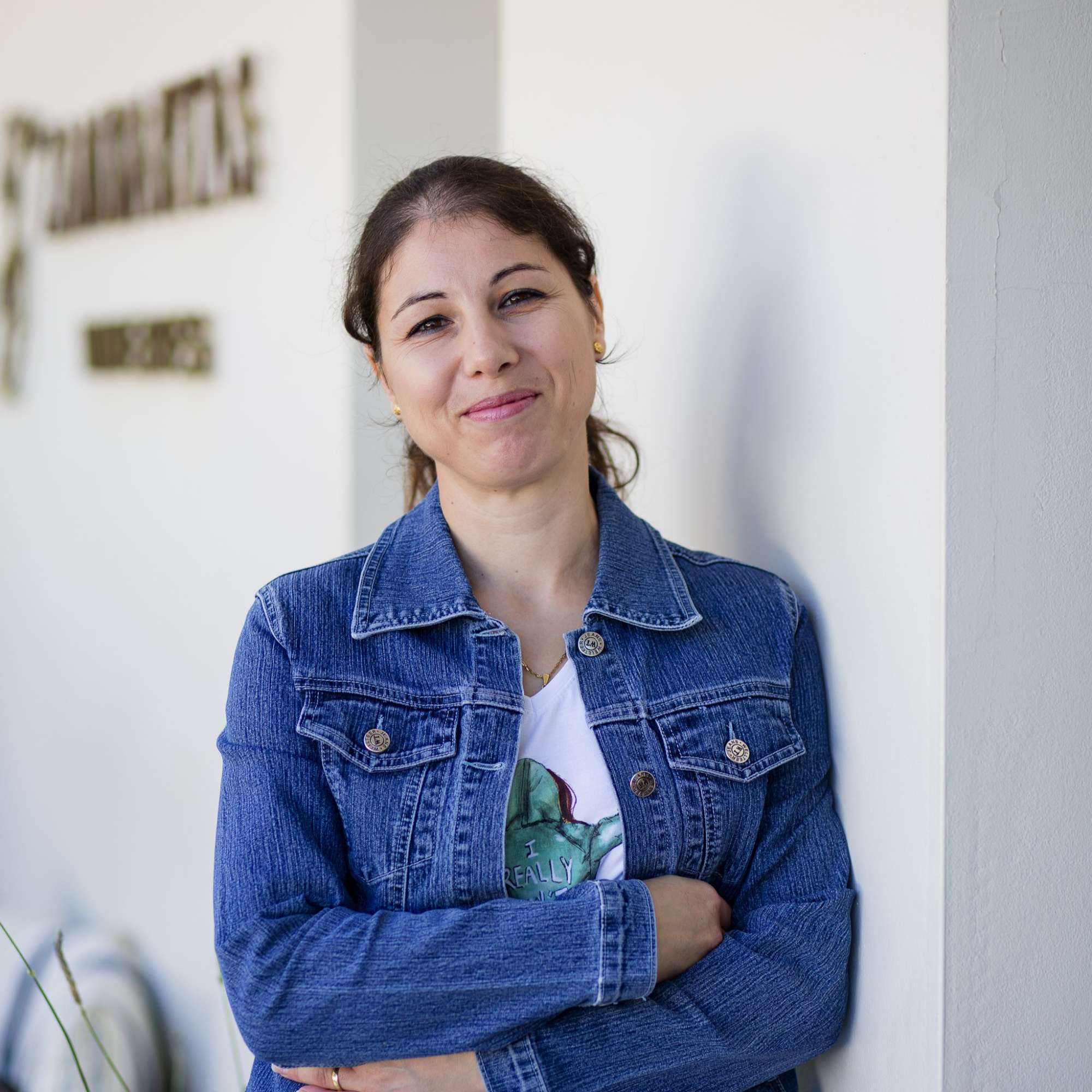 Gabriella Dobos
HOUSEKEEPING
Gabriella was born in Romania and moved with her husband and son to Cyprus. While her son attends the primary school in Agios Amvrosios, Gabriella is present at Zambartas Wineries to keep our hospitality area and offices clean and tidy. For many of us the first 'kalimera' is to Gabriella and with her friendly smile and pleasant character she is a 'silent', but unmissable force in our team!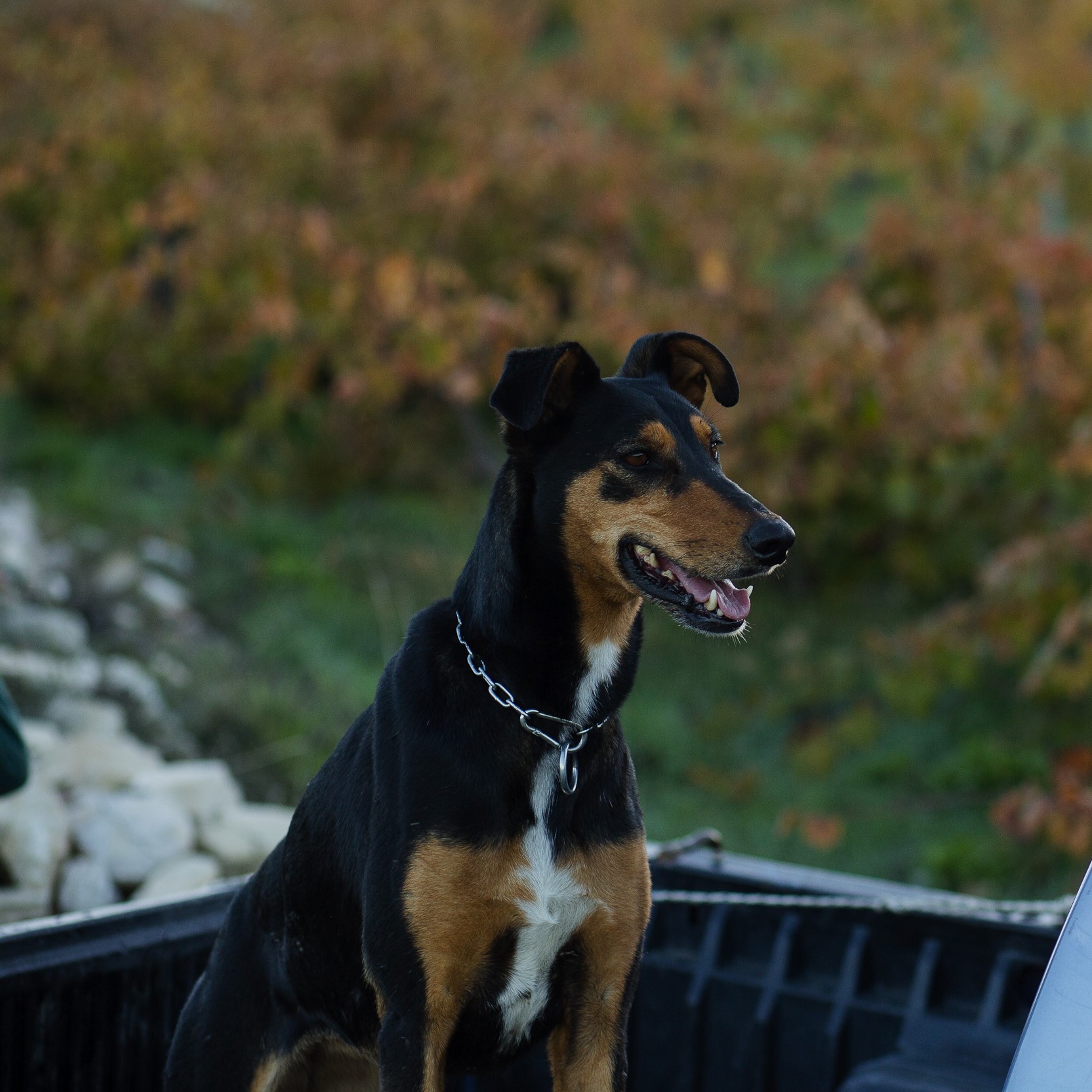 Mara
THE CHIEF DOG
No winery is complete without a dog trotting around. We found Mara during vintage 2016 abandoned along the road near Agios Amvrosios. We decided to adopt her and fed her back to a healthy weight. She is a real member of the vineyard team, spending most of her days there with the guys. Laying in the shade or chasing rabbits, she is always happy. During the night she keeps an eye out to keep us all safe. Well…. she looks much tougher than she is. Mara is a friend to everyone!!